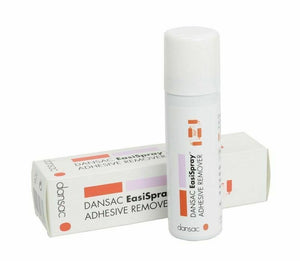 2 x Dansac Easispray Adhesive Remover 50ml (2 x 50ml)
£2474

£24.74
Tax included.
Shipping
calculated at checkout.
---
---
Dansac Easispray Adhesive Remover is specifically designed to dissolve and remove adhesive residues left behind by ostomy appliances or medical tapes. It helps to ensure a clean and residue-free surface, promoting better adhesion and preventing skin irritation.
Each bottle of Dansac Easispray Adhesive Remover is equipped with a convenient spray nozzle, allowing for targeted and controlled application. The spray formulation ensures even coverage and easy removal of adhesive residues without causing discomfort or skin damage.
Using Dansac Easispray Adhesive Remover is simple and hassle-free. Just spray a small amount of the solution onto the desired area, gently rub it in, and wipe away the adhesive residue with a clean cloth or tissue. The gentle formulation is suitable for use on sensitive skin.
With the bundle of two bottles of Dansac Easispray Adhesive Remover, you'll have an ample supply to meet your immediate and future adhesive removal needs. Each bottle is compact and travel-friendly, ensuring easy storage and accessibility whenever you need it.
Free standard UK delivery on this item: 3-4 working days to reach customer from time of ordering.
Express Shipping: 1-2 working days (if order is placed before 3pm).
Refer to our Delivery Delivery Options & Policy Page  for more information
---
We Also Recommend