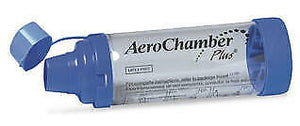 2 x AeroChamber Plus Spacer Device for Inhalers (2 devices)
£2100

£21.00
Tax included.
Shipping
calculated at checkout.
---
---
Introducing the AeroChamber Plus Spacer Device for Inhalers - the ultimate solution for enhancing the effectiveness of your respiratory medication. With this package, you'll receive not just one, but two AeroChamber Plus Spacer Devices, ensuring you always have a spare at hand. 
The AeroChamber Plus Spacer Device is a game-changer in inhalation therapy. It is specifically designed to improve the delivery of medication to your lungs, maximizing the therapeutic benefits of your prescribed inhaler. This device works seamlessly with most metered-dose inhalers (MDIs), making it compatible with a wide range of medications.
It incorporates a unique chamber design that optimizes medication dispersion, ensuring that more of the medication reaches your lungs where it's needed most. This means you'll experience improved medication absorption and enhanced relief from respiratory symptoms.
The AeroChamber Plus Spacer Device also includes an anti-static chamber, which reduces static charge and minimizes the loss of medication due to adherence to the chamber walls. This advanced feature helps to ensure that you receive the full prescribed dose with every use, maximizing the effectiveness of your inhaler.
Cleaning and maintaining the AeroChamber Plus Spacer Device is a breeze. Its easy-to-disassemble components allow for thorough cleaning and sterilization, ensuring a hygienic experience. The device is also dishwasher safe, saving you time and effort.
Compact and lightweight, the AeroChamber Plus Spacer Device is highly portable and can be conveniently carried in a pocket, purse, or backpack. Whether you're at home, work, or traveling, you'll always have your medication delivery solution within reach, ensuring consistent treatment and symptom management.
Invest in your respiratory health with the AeroChamber Plus Spacer Device for Inhalers. With two devices included in this package, you'll have the flexibility to keep one at home and take the other on the go. Experience optimal medication delivery, improved symptom relief, and regain control over your respiratory well-being. 
Free standard UK delivery on this item: 4-5 working days to reach customer from time of ordering.
Express Shipping: 2-3 working days (if order placed before 3pm)
Refer to our Delivery Options & Policy Page  for more information
---
We Also Recommend