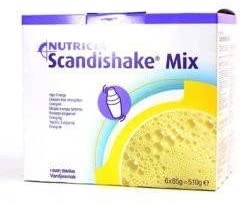 Scandishake Banana (85g x 6)
£2349

£23.49
Tax included.
Shipping
calculated at checkout.
---
---
Product description
Scandishake Mix is a Food for Special Medical Purposes for use under medical supervision. Scandishake Mix is a high-energy nutritional supplement based on skimmed milk powder, carbohydrate and fat, for the dietary management of disease related malnutrition. Scandishake Mix can be used to supplement the diet of patients unable to meet their nutritional requirements from other foods. Scandishake Mix can be made up with whole milk or added to foods as a fortifier.' Scandishake Mix is available in packs of 6 x 85g sachets, in 6 flavours: Strawberry, Caramel, Banana, Vanilla, Chocolate and Unflavoured. SCANDISHAKE MIX IS GLUTEN FREE.
Ingredients
Maltodextrin, vegetable oils (soy bean oil, palm oil), sucrose, skimmed cow's milk, caseinate (from cow's milk), emulsifier(mono- and diglycerides of fatty acids), flavouring, di potassium hydrogen phosphate, sodium chloride, tri magnesium di citrate
Buy in confidence from a registered UK Pharmacy
Fresh stock with long exp, min several months
Free standard UK delivery on this item: 4-5 working days to reach customer from time of ordering.
Express Shipping: 2-3 working days (if order placed before 3pm).
Refer to our Delivery Options & Policy Page  for more information