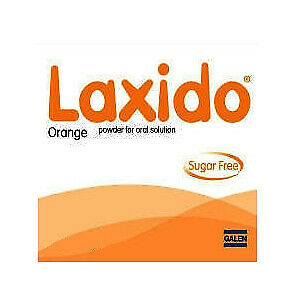 Lax ido Orange Sachets (Macrogol) - 2 packs of 30 Sachets - New Stock
£1899

£18.99
Tax included.
Shipping
calculated at checkout.
---
---
If you require advice about this product, please contact our friendly and professional pharmacy team. This product should be purchase ONLY by persons who have used it before - if not please contact us for advice. Additionally please see the information below
Free standard UK delivery on this item: 3-4 working days to reach customer from time of ordering.
Express Shipping: 1-2 working days (if order is placed before 3pm).
Refer to our Delivery Delivery Options & Policy Page  for more information
Buy in confidence - new stock from a UK registered community pharmacy.

Use: Management of constipation 
Who is this medicine suitable for: Can be used by Adults and Children aged 12 years or older. Not to be used by pregnant and breastfeeding women except on the advice of a Healthcare Professional.
Dosage: 1-3 Sachets a day in divided doses. Each sachet should be mixed with approximately 125ml of water. Additionally, it is important to maintain a good fluid intake while taking this medication.
Active ingredients: Macrogol 3350 13.125g, Sodium chloride 350.7mg, Sodium hydrogen carbonate 178.5mg, Potassium chloride 46.6mg
Each sachet contains
Contraindications - (REASONS THIS ITEM SHOULD NOT BE USED)
Laxido Orange is contraindicated in intestinal obstruction or perforation caused by functional or structural disorder of the gut wall, ileus and in patients with severe inflammatory conditions of the intestinal tract (e.g. ulcerative colitis, Crohn's disease and toxic megacolon).
Hypersensitivity to the active substances or to any of the excipients.
Special warnings and precautions for use (ADVICE REQUIRED IF ANY OF THESE APPLY)
The fluid content of Laxido Orange when re-constituted with water does not replace regular fluid intake and adequate fluid intake must be maintained.
The faecal impaction diagnosis should be confirmed by appropriate physical or radiological examination of the rectum and abdomen.
Mild adverse drug reactions are possible as indicated in section 4.8. If patients develop any symptoms indicating shifts of fluids/electrolytes (e.g. oedema, shortness of breath, increasing fatigue, dehydration, cardiac failure) Laxido Orange should be stopped immediately and electrolytes measured and any abnormality should be treated appropriately.
The absorption of other medicinal products could transiently be reduced due to an increase in gastro-intestinal transit rate induced by Laxido Orange (see section 4.5).
This medicinal product contains 187mg of sodium per sachet, equivalent to approximately 9% of the WHO recommended maximum daily intake of 2g sodium for an adult.
When used to treat chronic constipation the maximum daily dose of this product is equivalent to approximately 28% of the WHO recommended maximum daily intake for sodium.
Laxido Orange is considered high in sodium. This should be particularly taken into account for those on a low salt diet.