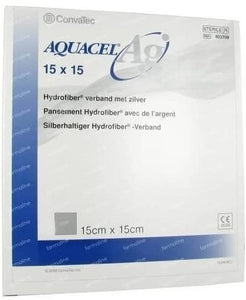 Aquacel Ag Silver Hydrofiber Wound Dressing 15cm x 15cm x 1
£1436

£14.36
Tax included.
Shipping
calculated at checkout.
---
---
Aquacel Ag Silver Hydrofiber Wound Dressings can kill a broad spectrum of wound pathogens in the dressing that can cause infection including MRSA, VRE and Pseudomonas aeruginosa and aids in reducing the wound bioburden Bacteria and other harmful wound exudate components are locked within the gelled AQUACEL Ag dressing fibres, where the ionic silver contained within the dressing kills them Clinical Benefits: - Supports moist wound healing environment - Contains ionic silver which can kill a broad spectrum of wound pathogens that can cause infection ? including MRSA, VRE and Pseudomonas aeruginosa - Absorbs and retains higher levels of exudate than most alginates and gauze - Reduces maceration by locking exudate into its fibres and away from the skin - Cohesive gel allows easy, atraumatic removal - Soft and conformable allowing intimate contact with the wound surface. This reduces dead space where bacteria may reside Indications: Aquacel Ag dressing is indicated as a primary dressing for moderately to heavily exuding wounds where there is an infection or an increased risk of infection Chronic wounds: leg ulcers, pressure ulcers, diabetic ulcers and fungating lesions Acute wounds: post-surgical wounds, abrasions, lacerations and partial thickness burns   Potential applications: - Excised abscesses - Excised pilonidal cysts - Cavity wounds - absorbs exudate and microorganisms - Sinus tracts (post-procedure) - Suture lines - Burns/abrasions - Pin (ortho) and tube (g-tube, PEG) sites - Finger/Toe degloving - Circumcision sites
Aquacel Ag Silver Hydrofiber Wound Dressing 15cm x 15cm x 1
Buy in confidence from a registered UK pharmacy and approved NHS supplier
Fast Delivery in the UK and Worldwide
Trade/NHS/Allied Professional Orders Welcome
Free standard UK delivery on this item: 4-5 working days to reach customer from time of ordering.
Express Shipping: 2-3 working days (if order placed before 3pm).
Refer to our Delivery Options & Policy Page  for more information