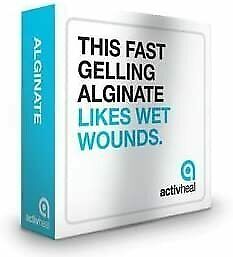 Activheal Alginate Dressings 10cm x 10cm - Box of 10 - New Stock - Free P&P
£2895

£28.95
Tax included.
Shipping
calculated at checkout.
---
---
If you require advice about this product, please contact our friendly and professional pharmacy team.
Free P&P
Buy in confidence - new stock from a UK registered community pharmacy.
ActivHeal Alginate is manufactured by processing natural elements found in seaweed to produce felt and rope dressings. The alginate fibres allow exudate to be absorbed into the dressing to form a cohesive gel: this ensures that the wound stays moist to provide an ideal wound-healing environment. The versatility of ActivHeal Alginate allows the dressing to be used on a variety of wounds, including cavity wounds, in which the dressing can be packed into the cavity to promote healing from within. Alginate is naturally a biodegradable fibre, which ensures that any small residual fibres that remain in the wound pose no risk to the patient.
Excellent absorption of exudate
Versatile
Promotes healing through a moist wound environment
Reduces the risk of maceration
Aids autolytic debridement
Encourages granulation within the wound
Free standard UK delivery on this item: 3-4 working days to reach customer from time of ordering.
Express Shipping: 1-2 working days (if order is placed before 3pm).
Refer to our Delivery Delivery Options & Policy Page  for more information
---
We Also Recommend