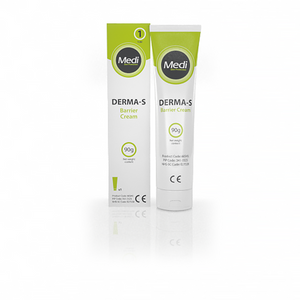 2 x Medi Derma S Total barrier cream (2 tubes of 90g)
£1999

£19.99
Tax included.
Shipping
calculated at checkout.
---
---
This package includes two tubes, each containing 90g of Medi Derma S Total Barrier Cream, offering you a reliable and effective solution for skin protection and barrier enhancement. Let's explore the features of Medi Derma S Total Barrier Cream:
Superior Barrier Protection: Medi Derma S Total Barrier Cream is specially formulated to provide a protective barrier on the skin's surface, guarding against moisture, irritants, and friction. It creates a shield that helps prevent skin breakdown and irritation.

Moisturizing and Hydrating: This barrier cream is enriched with moisturizing ingredients that help hydrate and nourish the skin. It aids in restoring and maintaining the skin's natural moisture balance, promoting soft and supple skin.

Soothing and Calming: Medi Derma S Total Barrier Cream contains soothing agents that help calm and soothe irritated skin. It provides relief from itching, redness, and discomfort, making it ideal for individuals with sensitive or compromised skin.

Long-lasting Protection: The barrier cream forms a durable and long-lasting barrier on the skin, ensuring extended protection throughout the day. It remains effective even after exposure to water or bodily fluids, providing continuous defense.

Versatile and Multi-Purpose: Medi Derma S Total Barrier Cream is suitable for various skin conditions and applications. It can be used to protect intact skin from moisture-associated damage, prevent skin breakdown in high-friction areas, and provide relief for dry and irritated skin.

Non-Greasy and Absorbs Quickly: The lightweight and non-greasy formula of this barrier cream allows for easy application and absorption into the skin. It leaves no residue, allowing for comfortable wear under clothing or medical devices.

Dermatologist Recommended: Medi Derma S Total Barrier Cream is recommended by dermatologists for its effectiveness and gentle formulation. It is suitable for individuals of all ages, including infants and the elderly.
Free standard UK delivery on this item: 3-4 working days to reach customer from time of ordering.
Express Shipping: 1-2 working days (if order is placed before 3pm).
Refer to our Delivery Delivery Options & Policy Page  for more information
---
We Also Recommend