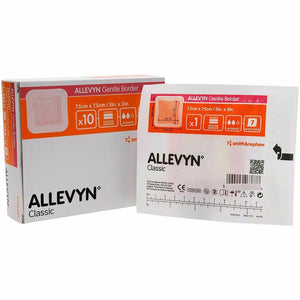 Allevyn Adhesive 7.5cm x 7.5cm Wound Dressings Pack of 10 dressings
£1699

£16.99
Tax included.
Shipping
calculated at checkout.
---
---
Allevyn Adhesive Dressing 7.5cm x 7.5cm adhesive Tapered construction with micro-thin edges Unique trilaminate structure Perforated wound contact layer Highly absorbent central hydrocellular layer Waterproof and bacteriaproof outer film layer Benefits Convenient adhesive presentation - The wound contact layer of Allevyn Adhesive is coated with a low allergy adhesive which is designed to adhere well to intact skin, but not to wounds.
The adhesive has a proven low risk of skin irritation.

Highly absorbent 

In-vitro studies and clinical experience both demonstrate that as healing progresses Allevyn Adhesive dressings can stay in place for up to seven days.

Promotes early healing

Allevyn Adhesive allows the formation and maintenance of a moist wound healing environment at the wound surface, preventing eschar formation and promoting rapid and trouble-free healing.

Profiled dressing edges

Allevyn Adhesive has a profiled cross-section, narrowing to micro-thin edges which ensure the dressing remains securely in place and reduces the risk of accidental removal by shear between the dressing and clothes or bedding. Bacteriaproof/Waterproof 

The outer polyurethane layer of Allevyn Adhesive prevents strike-through of excess exudate from the dressing, and minimises the chances of cross-contamination and wound infection, therefore enhancing patient comfort and reducing healthcare costs. 
Long Life dated products - All of our stocks are brand new, have long life dates due to our constant stock turnover, so you can multi buy with complete confidence.
FREE UK Delivery 
Free standard UK delivery on this item: 4-5 working days to reach customer from time of ordering.
Express Shipping: 2-3 working days (if order placed before 3pm).
Refer to our Delivery Options & Policy Page  for more information
---
We Also Recommend