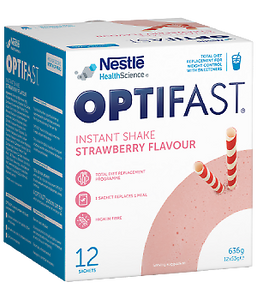 Optifast Milkshake Strawberry 54g (Box of 12) - NEW STOCK
£3499

£34.99
Tax included.
Shipping
calculated at checkout.
---
---
If you require advice about this product, please contact our friendly and professional pharmacy team.
Buy in confidence - new stock from a UK registered community pharmacy.

About the Optifast range:-
The Optifast® range gives you a wide selection of tasty meal replacements, so you get all your essential nutrients for the day, whilst precisely managing your calorie intake. Developed specifically for medically-supervised weight loss, you'll be able to find the right thing to suit your personal preferences at different times of the day and week. So you don't have a single meal to worry about. 
Each Optifast Shake sachet provides approximately 200 kcal and 20g of protein per serving . 
Ingredients for Strawberry
 flavour Shake:-
Skimmed 
Milk
 Powder,
 Milk
 Proteins, Maltodextrin, Vegetable Oils [Canola, Sunflower (Contains
Milk
 Proteins)], Fibres (Acacia Gum, Fructo-Oligosaccharide, Inulin), Minerals (Potassium Citrate, Magnesium Carbonate, Calcium Phosphate, Sodium Chloride, Potassium Phosphate, Ferric Pyrophosphate, Copper Gluconate, Zinc Sulphate, Manganese Sulphate, Sodium Fluoride, Potassium Iodide, Sodium Molybdate, Sodium Selenite, Chromium Chloride), 
Fish
 Oil (Contains 
Milk
 Proteins), Medium Chain Triglycerides, Vitamins (E, Nicotinamide, Pantothenic Acid, C, B6, Thiamin, A, Riboflavin, Folic Acid, K, D, B12, Biotin), Flavourings, Colour (Beetroot red), Sweeteners (Aspartame*, Acesulfame Potassium), Emulsifier (
Soy
 Lecithin and Rapeseed Lecithin) 
* Contains a source of phenylalanine.  
Free standard UK delivery on this item: 4-5 working days to reach customer from time of ordering.
Express Shipping: 2-3 working days (if order placed before 3pm).
Refer to our
Delivery Options & Policy Page
  for more information