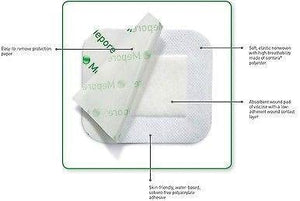 Mepore Ultra Sterile Dressings 10 x 11 cm Waterproof (Pack of 5)
£700

£7.00
Tax included.
Shipping
calculated at checkout.
---
---
Showerproof, Self Adhesive, Sterile Absorbent Dressing Mepore Ultra is a shower, viral and bacterial barrier (microbes larger than 25nm) for patients. It has optimal absorption capabilities and is designed with an easy to remove protection paper that enables aseptic as well as effortless application. It is also designed to minimise friction between the patient and their clothing/bed Optimised adherent secures dressing and ensures gentle removal Shower- viral- and bacterial-barrier (microbes larger than 25 nm) Aseptic, effortless application Low friction to bed and clothing with sufficient absorption capacity HOW MEPORE WORKS The backing film allows showering and protects the wound from water and contamination. It also protects clothing and bedlinen from blood or exudate strike-through. Due to a highly absorbent pad and a high vapour permeability of the backing film, the dressing offers good total fluid handling. The polyacrylate adhesive is designed to be gentle to the skin and at the same time provide secure fixation. The easy-to-remove protection paper permits sterile application, as well as simplifies dressing application. The stability of the fabric/film laminate also supports ease of application..   AREAS OF USE Mepore Ultra can be used in a wide variety of wounds which have low to moderate exudate levels. These include surgical wounds, minor burns, cuts, and abrasions.     Please note outer boxes may not always be supplied
Mepore Ultra Sterile Dressings 10 x 11 cm x5 Waterproof - Wounds Tattoos 680925
Buy in confidence from a registered UK pharmacy and approved NHS supplier
Fast Delivery in the UK and Worldwide
Trade/NHS/Allied Professional Orders Welcome
Free standard UK delivery on this item: 4-5 working days to reach customer from time of ordering.
Express Shipping: 2-3 working days (if order placed before 3pm).
Refer to our Delivery Options & Policy Page  for more information