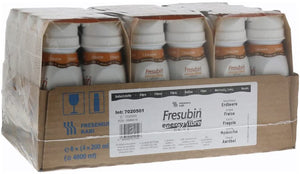 Fresubin Energy Fibre Drink STRAWBERRY - 6X4X200 ml (total 24 drinks)
£3999

£39.99
Tax included.
Shipping
calculated at checkout.
---
---
High caloric, fibre-rich drinking food. Flavour: Strawberry

Product description:
Fresubin energy fibre drink

- High energy density dietary (300 kcal per bottle) for patients with:
Normal digestive performance.
Normal fabric change position.
- Prebiotic and bifidogenic fibre:
- Regulate, nourish and protect the intestine
- Promotes healthy intestinal flora.
- counteract diarrhea and constipation
- Balanced fatty acid pattern for cardiovascular vascular vessels and immune system
- supply of vitamins and trace elements from 3 EasyDrinks

Tip: Fresubin energy fibre DRINK tastes best slightly cooled

Indications:
- lack of or limited ability to adequately diet
- malnutrition
- Increased energy and nutrient requirements
- Consuming diseases
- Loss of appetite
- Convalescence

Contraindications:
- basic contraindication of enteral diet, such as thin intestinal intestinal diet, ileus.
- Severe organ-specific disorders, such as hepatic insufficiency, renal insufficiency, acute pancreatitis depending on the status.
- Metabolic disorders of the nutrients contained in Fresubin energy fibre DRINK.

Dosage:
Medium daily dose for exclusive diet:
5 to 7 hydration packs

Storage:
Room temperature. Open containers in the fridge can be kept for up to 24 hours.

Source: rale-ernaehrung.de
Version: 09/2008
FRESUBIN Energy fibre drink
Hochkalo historical, Ballaststoffreiche drinking food
Taste: Strawberry
Bedarf reach of the supply with vitamins and trace elements
Präbiotische and Bifidogene fibre
Free standard UK delivery on this item: 3-4 working days to reach customer from time of ordering.
Express Shipping: 1-2 working days (if order is placed before 3pm).
Refer to our Delivery Delivery Options & Policy Page  for more information