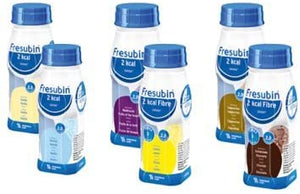 Fresubin 2KCal Fibre Neutral (4 x 200ml)
£1099

£10.99
Tax included.
Shipping
calculated at checkout.
---
---
Product description
Fresubin 2KCal Fibre Drink (Neutral) 200ml A flavoured liquid consisting of protein (milk) vegetable oils (rapeseed oil, sunflower oil), carbohydrates, vitamins, minerals and trace elements. Fresubin 2kcal fibre is a high energy 2 kcal/ml, high protein sip feed with fibre, rich in vitamins and trace elements.Fresubin 2kcal fibre is ready to use and presented in a 200ml bottle with straw. It is available in a choice of four flavours: chocolate, vanilla, cappuccino and lemon. Energy: 400 kcal (calories) / bottle Protein: 20g / bottle Fibre: 3g / bottle Lactose and gluten free Energy Distribution Protein 20% Fat 35% Carbohydrate 45% Indications for Use Standard ACBS indications: short bowel syndrome, intractable malabsorption, pre-operative preparation of patients who are undernourished, patients with proven inflammatory bowel disease, following total gastrectomy, bowel fistulae, disease related malnutrition, continuous ambulatory peritoneal dialysis (CAPD) and haemodialysis. Dosage: As a guide: For supplementary nutrition: 2 x 200ml bottles per day will provide 40g protein, 800kcal and meets the average adult recommended daily requirements for vitamins and trace-elements (Dietary Reference Values for food, energy and Nutrients for the United Kingdom, DH 1991). Dosage should be calculated by a clinician or dietitian according to individual requirements.
Ingredients
Fresubin 2K Fib - Water, glucose syrup, milk protein, vegetable oils (sunflower oil, rapeseed oil), sucrose5;6, inulin (from chicory)5 , cocoa powder (fat reduced)8 , maltodextrin5 , wheat dextrin5;9, flavouring(s)5;6, potassium citrate5 , emulsifiers (E 471, soya lecithin) 5 , potassium carbonate5 , sodium chloride5 , acidity regulator (E 507)5;8, sodium carbonate5 , vit. C5 , stabilisers (E 460, E 466, E 407)8 , magnesium oxide5 , iron pyrophosphate5 , niacin5 , zinc sulphate5 , manganese chloride5 , pantothenic acid5 , vit. E5 , copper sulphate5 , vit. B2 5 , vit. B6 5 , sodium fluoride5 , vit. B1 5 , ß-carotene5 , vit. A5 , folic acid5 , chromium chloride5 , sodium molybdate5 , potassium iodide5 , vit. K1 5 , sodium selenite5 , biotin, vit. D3, vit. B12
Buy in confidence from a registered UK Pharmacy
Fresh stock with long exp, min several months
Free standard UK delivery on this item: 3-4 working days to reach customer from time of ordering.
Express Shipping: 1-2 working days (if order is placed before 3pm).

Refer to our Delivery Delivery Options & Policy Page  for more information
---
We Also Recommend