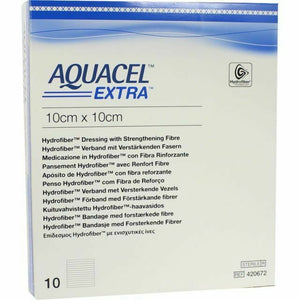 2 x Aquacel Extra 10cm x 10cm (2 Packs of 10)
£7298

£72.98
Tax included.
Shipping
calculated at checkout.
---
---
Aquacel Extra 10cm x 10cm is the ultimate wound care solution for accelerated healing and optimal moisture management. This package includes two packs of ten Aquacel Extra dressings, providing you with a total of twenty high-quality dressings to support your wound healing journey.
Aquacel Extra dressings are specifically designed to promote a moist wound environment, which is essential for faster healing and reduced risk of infection. Each dressing is crafted with Hydrofiber technology, a unique blend of fibers that transforms into a soft, gel-like substance upon contact with wound exudation. This gel forms a protective barrier while absorbing excess fluid, creating an optimal environment for tissue regeneration.
The 10cm x 10cm size of these Aquacel Extra dressings offers generous coverage for wounds of various sizes. Whether you're dealing with post-surgical incisions, chronic ulcers, or traumatic injuries, these dressings provide superior absorbency, preventing maceration and promoting gentle removal during dressing changes.
Aquacel Extra dressings are suitable for a wide range of wounds, including moderate to heavily exuding wounds. The soft and conformable nature of the dressings ensures a comfortable fit, promoting patient comfort during the healing process. The dressings also aid in minimizing pain and trauma associated with dressing changes, allowing for a smoother and less disruptive experience.
With twenty dressings in total, this package offers exceptional value for money. Whether you require long-term wound care or have multiple wounds to address, you'll have an ample supply to support your healing journey.
Experience the benefits of advanced wound care technology, including optimal moisture management, faster healing, and improved patient comfort. Don't settle for less when it comes to your wound care needs. Order your Aquacel Extra dressings today and pave the way for a quicker and more effective healing process.
Free standard UK delivery on this item: 4-5 working days to reach customer from time of ordering.
Express Shipping: 2-3 working days (if order placed before 3pm).
Refer to our Delivery Options & Policy Page  for more information
---
We Also Recommend