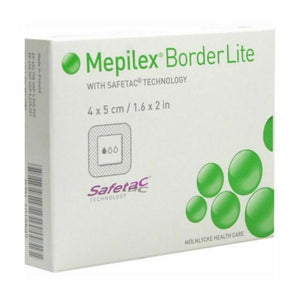 10 x Mepilex Border Lite 4 x 5cm (1 box of 10 dressings)
£1350

£13.50
Tax included.
Shipping
calculated at checkout.
---
---
This box contains ten individually packaged dressings that are designed to provide superior healing and comfort for your wounds.
Mepilex Border Lite dressings are crafted with advanced technology, combining gentle adherence with effective exudate management. The 4 x 5cm size is ideal for small to medium-sized wounds, ensuring precise coverage and protection. Whether you have abrasions, surgical incisions, or ulcers, these dressings have got you covered.
The unique design of Mepilex Border Lite features a soft silicone adhesive border that adheres gently to the surrounding skin. This minimizes pain and trauma during dressing changes, making it a comfortable experience for you. The self-adhesive border also provides a secure fit, preventing any leakage or displacement, even during movement.
One of the key features of Mepilex Border Lite is its excellent exudate management. The absorbent foam pad effectively absorbs and retains excess moisture from the wound, maintaining a balanced healing environment. This reduces the risk of maceration and promotes faster healing.
Mepilex Border Lite dressings are also equipped with Safetac® technology. The Safetac layer ensures atraumatic removal, meaning the dressing can be easily lifted off without causing additional pain or damage to the wound or surrounding skin. This innovative feature enhances patient comfort and reduces the risk of skin stripping.
Why choose 10 x Mepilex Border Lite 4 x 5cm?
Superior Healing: Mepilex Border Lite dressings promote optimal healing conditions, ensuring faster and more efficient wound recovery.

Precise Size: The 4 x 5cm dimensions make these dressings perfect for small to medium-sized wounds, providing accurate coverage and protection.

Effective Exudate Management: The absorbent foam pad absorbs excess moisture, maintaining a balanced healing environment and minimizing the risk of maceration.

Comfortable and Secure: The soft silicone adhesive border adheres gently to the skin, ensuring painless dressing changes and a secure fit that stays in place.

Safetac Technology: The Safetac layer allows for atraumatic removal, enhancing patient comfort and reducing the risk of skin damage.
Dimensions: 4 x 5cm
Free standard UK delivery on this item: 3-4 working days to reach customer from time of ordering.
Express Shipping: 1-2 working days (if order is placed before 3pm).
Refer to our Delivery Options & Policy Page  for more information
---
We Also Recommend